International Day of Peace

September 19, 2014
The 12th annual International Day of Peace was held on Friday, September 19th.  The theme of the day was Peace Through Music and the featured book received by all classes in attendance was "Jubilee, One Man's Big Bold and Very Loud Celebration of Peace" by Alicia Potter (who joined us at Peace Day). For more information on the 2014 Peace Day events, read this flyer.
               
The book tells the story of Patrick Gilmore who is considered the "father of the marching band".  He was and Irish immigrant to Boston and was a band leader during the civil war.  When the war ended Patrick Gilmore wanted to create the biggest, loudest and boldest concert the world had ever known – Boston's Peace Jubilee.
In addition to author, Alicia Potter; guest musicians and storytellers include, Kim and Reggie Harris singing songs from the underground railway; Dorothy Paige Turner recreating the story using sounds from the book; Megan Wells, storyteller; David Causey as Fredrick Douglas; Suzanne Crandall as Jane Addams; and more. . .
The variety of activities encouraged the children to think about peace and what it means to them, as well as opportunities to learn about other countries, cultures and perspectives.
Enjoy our Slideshow Featuring Events from the 2014 Day of Peace
What is the International Day of Peace?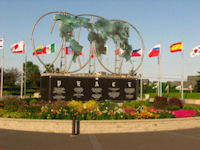 The International Day of Peace, established by United Nations resolution in 1981, provides an opportunity for individuals, organizations and nations to create practical acts of Peace on a shared date (September 21). Around the world, the International Day of Peace is used to highlight the U.N. Decade for a Culture of Peace and Non-Violence for the Children of the World, 2001 to 2010. The International Day of Peace (IDOP) has been celebrated annually at the Peace Plaza in Rockford since 2003, hosted by the Keeling and Puri families.
How is the Day of Peace celebrated at the Keeling-Puri Peace Plaza?
At the International Day of Peace, 1,500 individuals from the Rock River Valley, including around 1,000 elementary school children learn to:
Celebrate the cultural heritage of our community
Understand and appreciate individual differences and similarities
Become aware of our responsibilities as global citizens to strive for peace in our world
Children, mostly grades three through five, learn about peace through classroom study, music, Peace Day activities and meeting community and global peacemakers.
---
The Keeling-Puri Peace Plaza and The International Day of Peace

As its mission, the Peace Plaza strives to:

Promote peace through understanding within our community and our world
Encourage a sense of personal responsibility in the process of building enduring world peace
Provide the children and adults of the Rock River Valley with a venue and event to celebrate our community's rich ethnic heritage
Promote education about children and adults in other countries; their cultures, beliefs and dreams
Work in collaboration with community partners

Features at the Peace Plaza:

60 languages on six Peace Poles proclaim "May Peace Prevail on Earth"
44 flags represent our region's rich and diverse cultural heritage
10 prophets of peace quoted on the granite sculpture base
7 sister cities honored in Rockford's Sister Cities Garden
One "Harmony Atlas" sculpture by Lee Sido of Northern Illinois University
Historical timeline of immigration to the Rock River Valley
---
International Day of Peace Activities
Promoting peace through education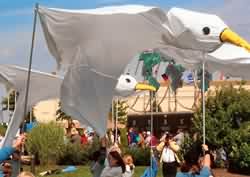 Schools receive books about peace for their classroom or library, curriculum support and passport holders for each child to participate in Day of Peace activities at the Peace Plaza.
Promoting peace through music
2013 featured local entertainer Dorothy Paige Turner with participatory musical fun.  Past guests have included Peter Yarrow (of Peter, Paul and Mary), his daughter Bethany and the Rufus Roots Quartet, rap singer Baby J, the Rock River Valley Peace Choir and One Drum Multicultural Musical Ensemble.  Schools are encouraged to prepare songs, or dances to perform at Peace Day. 
Promoting peace through experiential learning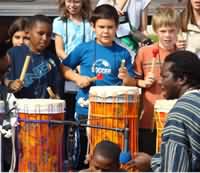 Hands-on activities have included flying giant peace doves, making "whirled peace" pinwheels, learning about the "power of the penny" and writing messages of peace on prayer flags.
Promoting peace by talking with peacemaker role models
2014 will feature special guest Gandhi's grandson, Rajmohan Gandhi.  Past special Peace Day guests have included: Dr. Barbara Reynolds from UNICEF, Peter Yarrow of Peter Paul and Mary, and Greg Mortenson (founder of the Central Asia Institute).  In character guests have included; Jane Addams (1931 Nobel Peace Prize winner and graduate of Rockford University), Eleanor Roosevelt, and Abraham Lincoln.
We are pleased to announce that Karen Bieschke and Lois Lutz have joined the leadership team of the Peace Events. We are also thankful for the outstanding leadership of Tom and Sandy McCullough enriching so many lives in our community on behalf of the International Day of Peace. For more information, or to participate in Rockford's International Day of Peace, please contact us.
---
Other Day of Peace Community Activities
The Rock River Valley community raised over $100,000 for Greg Mortenson's Pennies for Peace Foundation to build and endow a school for the children of a village in remote Pakistan or Afghanistan. Our community's involvement, spearheaded by the children, expanded to 50,000 donors and included most of our schools, as well as area businesses and individuals.
"This project captured the hearts of our children and community. In addition to the lessons of philanthropy and personal responsibility, the Pennies for Peace effort was a gift to ourselves, reminding us of the value of education for everyone in the world as a tool to peace, understanding and success in the future" said Jim Keeling, co-founder of the Keeling-Puri Peace Plaza.
Watch our videos on YouTube
Video of the International Day of Peace 2008 featuring the Peace Choir and Greg Mortenson
Video of the evening performance of the Peace Choir at the Coronado Theater Sept 2008
---

At Peace Plaza,
One World
Comes Together.
May Peace Prevail on Earth