Welcome to the Peace Plaza
---
Peace Day 2014 was celebrated on Friday, September 19 with the following theme:
Who Will You Make Peace With?
September 2014 – Peace Month in the Rockford Region was inspired by Peace One Day and incredible initiatives by like-minded Rockford citizens and organizations. The Peace Month Coalition (Connect2Peace) now has a website with lots of information about local activities: www.connect2peace.org
Aspiring for true peace and tranquility and celebrating diversity and heritage, the Keeling-Puri Peace Plaza is located in Rockford, Illinois. It is easily accessible from I90 (Riverside Exit) west one-half mile to McFarland Road and south one quarter mile.
The Peace Plaza is situated in a 2.5 acre park which also serves as a trailhead for Rockford's 20 mile Perryville Path network of bicycle and recreational trails with an easy link to Rock Cut State Park located three miles north of the Peace Plaza. Ample parking is available at the Peace Plaza.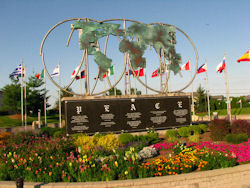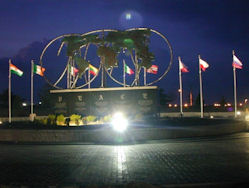 Day or Night ... The Peace Plaza is an inspiring sight!
Where do we find peace?
"If we are to have real peace in the world, we must begin with the children." Mahatma Gandhi
We look to the children of the greater Rockford region to inspire us all to participate fully in the quest for enduring world peace. The Keeling Puri Peace Plaza is dedicated to support the young leaders of the Rockford Region as they work to create sustainable change.

Rock River Valley young people are already mobilizing to solve the greatest challenges faced by communities around the world.

Hannah Warren founded Jhoole, an eco fashion social enterprise based in Madhya Pradesh, one of the poorest states of India, to benefit women living in poverty. Jhoole's goal is to break the cycle of chronic poverty by employing mothers so that they can send their children to school generating a chain reaction that can ultimately transform an entire community.

After fostering Operation Respect nation-wide in the Ukraine, Bob Schlehuber brought Operation Respect Rock River Valley (ORRRV) to our community with a goal of creating a community culture of caring, safe and respectful environments. This local initiative was featured at the 9th Annual International Day of Peace at the Peace Plaza in September of 2011 and has been adopted in schools, community centers, after school programs, and churches region-wide.

Our children have partnered with organizations such as Pennies for Peace , World Bicycle Relief, Kids Around the World, and New Global Citizens finding local solutions to global and local problems.
"The young do not know enough to be prudent and therefore they attempt the impossible, and achieve it, generation after generation." Pearl S Buck
We have great hope for the future of our community and our world! Look for periodic updates here summarizing the efforts of our incredible young people.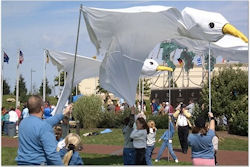 The Peace Plaza is proud to host the International Day of Peace each year on September 21st.

This day is shared with 1000 3rd – 5th grade area students who:
Celebrate the cultural heritage of our community
Learn to appreciate individual differences and similarities
Become aware of our responsibilities as global citizens to strive for peace in our world
The Peace Plaza has been honored to welcome visitors from all over the world. Our guests have included:
Nobel Peace Prize Winners: Dr. Oscar Arias (1987)
and "Jane Addams" (1931)
Peter Yarrow of Peter, Paul and Mary and founder of Operation Respect (Peace Day 2011)
Greg Mortenson of Central Asia Institute (Peace Day 2008)
Dr. Barbara Reynolds, Senior Advisor, Special Projects for UNICEF (Peace Day 2012)
"Abraham Lincoln" (Peace Day 2009)
Sakuji Tanaka, President Rotary International (2012)
---

At Peace Plaza,
One World
Comes Together.
May Peace Prevail on Earth