About Us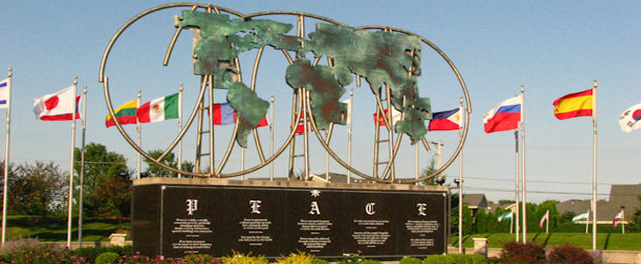 Forty Eight Flags, Sixty Eight Languages, Ten Prophets of Peace, Two Hemispheres, One World
The Keeling-Puri Peace Plaza celebrates the rich and diverse ethnic history of the Rock River Valley region and the universal aspiration for tranquility and world harmony. It challenges each individual to embrace a heightened sense of personal responsibility to erode barriers and construct enduring world peace. Built as a tribute to Virgil Keeling and Amarnath Puri, it honors the virtues of diversity, equity and inclusion. Though its conception pre-dated the September 11, 2001 terrorist attacks in New York City and Washington, D.C., the catastrophe redoubled the community's efforts to complete the construction of the Peace Plaza. One of the Plaza's founders commented:
"The aspiration is for each individual to take personal responsibility for the world. Recognizing that we are all interconnected, we each have our role in improving how we deal with each other and improving how we deal with other countries. Everything in the world starts with the individual."
Key design elements of the beautifully landscaped Peace Plaza include the 15 foot by 34 foot sculpture "Harmony Atlas" which sits atop a 7 foot by 25 foot granite sculpture base in the center of the Plaza itself crafted in brick-like streetprint. The sculpture base is adorned with 10 peace quotes from modern day and ancient prophets of peace: John F. Kennedy; Mother Theresa; Martin Luther King; Mahatma Gandhi; an Oglala Sioux Native American; Albert Einstein; Abraham Lincoln; John Lennon; Petrarch; Aristide Briand; . . . and from Micah 6:8 of Jewish, Christian and Islamic tradition:
And what does the Lord require of you?
To act justly and to love mercy and to walk humbly with your God.
The theme of Peace is portrayed in the Peace Plaza's five Peace Poles. The Peace Poles are 8 foot tall, six sided obelisks which proclaim in sixty different languages (all related to Rockford's ethnic and cultural heritage), the simple prayer: "May Peace Prevail on Earth". The sculpture base is engraved with a short course historical of 200 years of immigration and settlement in Rockford. The celebration of Rockford's ethnic heritage and diversity is visually symbolized in the striking Court of 40 Flags, fully illuminated. The flags represent 40 different nationalities, all currently dwelling in the Rockford area in significant numbers.

mission
Our region's diversity helps us prosper in the global economy. We pray that we will each embrace a heightened sense of personal responsibility and commitment to participation in the ongoing process which erodes barriers and builds enduring world peace.
Pam & Jim Keeling and Sunil Puri
Keeling Family Statement


The Keeling family, in partnership with the Puri family, is proud to sponsor the Keeling-Puri Peace Plaza in loving memory of our fathers, Virgil C. Keeling and Amarnath Puri. Virgil and our mother, Barbara Wedge Keeling, set up their home in Rockford in 1950. Our father dedicated his life to healing. In his eyes, all people were always equal, with regard to ethnic background or material wealth. He instilled in his children and grandchildren the gift of balance between individual responsibility and group harmony. We know that Virgil and Amarnath would have been fast friends had they ever met. Let this Plaza and it's mission be a permanent tribute to righteousness in the heart and peace in the world.
Michael, James, Katherine, Timothy, and Thomas Keeling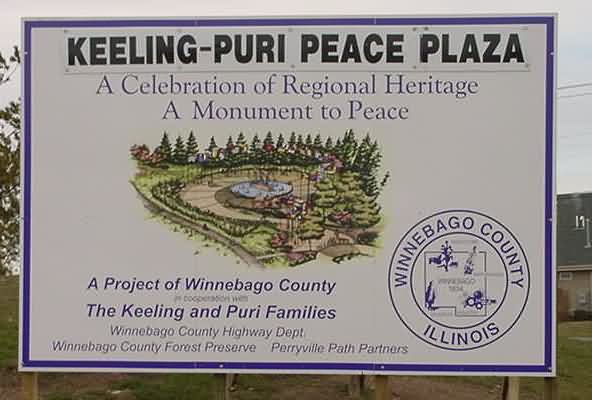 Puri Family Statement


The Keeling-Puri Peace Plaza celebrates the converging of all cultures of the world. In partnership with the Keeling family, we are proud and humble sponsors celebrating the life of Amarnath Puri, patriarch of the Puri family of Bombay, India, and Virgil Keeling of Rockford, Illinois. Amarnath Puri taught us that it is our personal human responsibility to embrace those virtues in our daily lives which improve the quality of life and pave the way to peace and understanding. We also honor Chanchal Puri and Barbara Keeling, the now deceased family matriarchs, who became friends and visited each other's homes, even though they lived half a world apart. May Peace Prevail On Earth.
Sunil and Jenine Puri Harish, Vijay, Dilip, Dinesh, Pravin, Bharat, and Tanuj Puri