Special Recognition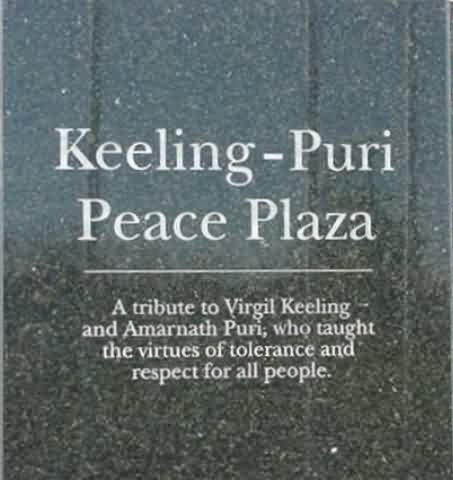 The development of the Keeling-Puri Peace Plaza is made possible by the vision, energy and generosity of the Rockford community.
Jim and Pam Keeling and Family
Morse Electric         
Sunil and Jenine Puri and Family
Rockford Park District
Dan and Linda Arnold
Senator Dave Syverson and Family
Kristine Cohn
City of Rockford
Judith Barnard
Winnebago County
Robert Bottensek
Winnebago County Forest Preserve District
Cord Construction
Helen Gjerde
Rockford Blacktop Construction
Lee Sido
John Malburg
Illinois Department of Natural Resources
Miller Engineering
Jim, Andrea, and Keith Gustafson and Family
We are pleased to announce that Karen Bieschke and Lois Lutz have joined the leadership team of the Peace Events. We are also thankful for the outstanding leadership of Tom and Sandy McCullough enriching so many lives in our community on behalf of the International Day of Peace.
Contractors & service providers
Significant services were provided by many Rockford area contractors and service providers in the conceptualization and construction of the Keeling-Puri Peace Plaza.
First Midwest Group         
Commonwealth Edison
The Lannert Group
Rockford Park District Foundation
Heritage Engineering
Three Hammer Construction
Terracon Consulting Engineers
Naturescape Designs, Inc.
C&H Building Specialists
Stanton Cemetery Lettering
Medicine Man, Inc.
Bollinger, Lach, and Associates
Impact Imaging
Wayne Erickson
Thayer Lighting Company
Diamond Masonry
Winnebago County Highway Department
Lamont Emory and Company
Liebovich Steel
Lawnscapes/Rob Bottensek
Custom Glass Company
Herold Flags
Benson Stone Company
Peace Pole Makers USA
Samco, Inc.
Jerry's Trophies & Awards
Wonder Dog Media, Inc.
Underground Services, Inc.
Cooling Landscape Contractors
Earthworks, Inc. Lawn Maintenance
Photography Credits


Scott Gribble
Sherry Young
Judy Barnard
Mike Graham
Pamela Keeling
Ed Grob