international day of peace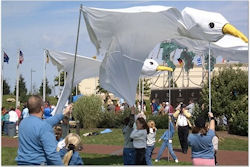 What Is International Day of Peace?


The International Day of Peace, established by United Nations resolution in 1981, provides an opportunity for individuals, organizations and nations to create practical acts of Peace on a shared date (September 21). Around the world, the International Day of Peace is used to highlight the U.N. Decade for a Culture of Peace and Non-Violence for the Children of the World, 2001 to 2010.
The International Day of Peace (IDOP) has been celebrated annually at the Peace Plaza in Rockford since 2003, hosted by the Keeling and Puri families. At the International Day of Peace, 1,500 individuals from the Rock River Valley, including around 1,000 elementary school children mostly grades 3-5 learn to:
• Celebrate the cultural heritage of our community
• Understand and appreciate individual differences and similarities
• Learn about peace through classroom study, music, activities, and meeting community and global peacemakers
• Become aware of our responsibilities as global citizens to strive for peace in our world

Peace Day Activities



Promoting Peace Through Education
Schools receive books about peace for their classroom or library, curriculum support and passport holders for each child to participate in Day of Peace activities at the Peace Plaza.

Promoting Peace Through Music
Acclaimed musicians and story tellers sing songs of freedom. Past guests have included Peter Yarrow (of Peter, Paul and Mary), his daughter Bethany and the Rufus Roots Quartet, rap singer Baby J, the Rock River Valley Peace Choir, Dorothy Paige Turner, and One Drum Multicultural Musical Ensemble. Schools are encouraged to prepare songs, or dances to perform at Peace Day.

Promoting Peace Through Experiential Learning
Hands-on activities have included flying giant peace doves, making "whirled peace" pinwheels, learning about the "power of the penny" and writing messages of peace on prayer flags.

Promoting Peace By Talking With Peacemaker Role Models
Past special Peace Day guests have included: Rajmohan Gandhi, Dr. Barbara Reynolds from UNICEF, Peter Yarrow of Peter Paul and Mary, and Greg Mortenson (founder of the Central Asia Institute).  In character guests have included; Jane Addams (1931 Nobel Peace Prize winner and graduate of Rockford University), Julia Lathrop, Eleanor Roosevelt, Fredrick Douglass and Abraham Lincoln.

For more information, or to participate in Rockford's International Day of Peace, please contact us.
2016 International Day of Peace - September 16th
The 2016 Day of Peace featured challenges of new students from different cultures on their first day of school and the lessons to be learned. Guests of the "Bridging Cultures" theme included: Dorothy Paige Turner, David Causey, Suzzane Crandall, Megan Wells, and Jim May.